Monthly events:  All are welcome to the PLSIA events!

Scrapbooking & Crafting on the 1st Friday of each month at 6:00 PM. For more info, contact Chris
Clubhouse Committee on the 2nd Wednesday of each month at 7:00 pm at the clubhouse – Consider joining this important committee!
Board meetings on the 3rd Wednesday of each month at 7:00 PM – ALL ARE WELCOME! Just contact a board member to have your topic put on the agenda. https://plsia.com/contact/
Coming Up!
October 7, 2023: PLSIA Scavenger Hunt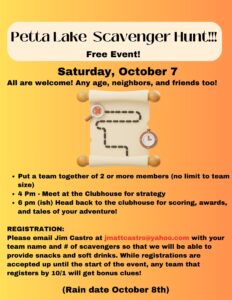 November 18, 2023: PLSIA Artisan Fair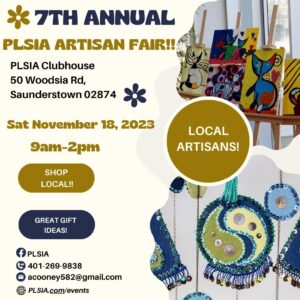 THANK YOU for participating in past events: Check out the photo gallery page to see the many events.
August 31, 2023 at 8:00 pm: PLSIA Movie Night! Surf's Up was the featured attraction held in the Paliotti's backyard. The night was clear and the temperature was just right for snuggling. Tiki torches and even a bonfire added to the ambiance. Even the super blue moon made an appearance!
August 20, 2023: Annual PLSIA Meeting at the Clubhouse
August 6, 2023: Annual Block Party
May 13, 2023 – Friends and neighbors came out in force to help clean the Pettaquamscutt Lake beach. Armed with rakes, shovels, and trash barrels, the job was completed much quicker (and was much more fun) thanks to all who came to help!
May 7, 2023 – Friends and neighbors came out for the annual May Breakfast & Plant Sale. A HUGE thank you to Blue Moon Perennials for the flowering plants, Rome Point Cafe for their generous donation of their awesome home fries, the Coffee Connection for freshly made bagels, and all the friends and neighbors who donated their time, breakfast items, and plants. This is one great community we live in!
April 2, 2023 – The 1st annual PLSIA Easter Parade and Egg Hunt was a smash! The kids had a blast and the parents too! Special thanks to Tina Carlow for pulling it all off !
5th Annual Chili Cook-Off – March 19, 2023: The cook-off was a great success. Ten entrants battled for the privilege of being the best of the best. It was hard to choose but ultimately the winners were determined! Click here to see who won! More photos here!
December 31, 2022 – New Year's Eve Party with DJ Luke
December 19, 2022 – 1st and 2nd place winners of the PLSIA House Decorating Contest announced
December 19, 2022 – Cookie Swap & Kids Cookie Decorating
December 16, 2022 – Ugly Sweater Contest
6th Annual Artisans Fair 11/19/2022:  A HUGE hit. Kudos to Nancy Gates for all her hard work making this fair so successful! Check out some Vendors on the Photo Gallery Page
Halloween Costume Party, Halloween Parade & Trunk or Treat October 29th & 30th – A lot of fun was to be had during these events! Even pets joined in on the fun!  Photo Gallery Page  A big shout out to Luke for volunteering to DJ at the Halloween party.
Clubhouse Cleaning Day 10/2/2022:  Lots of volunteers came to spruce up the clubhouse.  The interior and exterior areas of the clubhouse are ready for fall.
YOGA at the clubhouse was successful – Special Thank You to Betsy who held classes on Thursdays at 8:30 AM and 10:00 AM and Saturdays at 8:30 AM.
May Day Breakfast & Plant Sale 5/1/2022: More than 50 folks came to enjoy a delicious homemade breakfast.  Special THANK YOU to all the good cooks in the neighborhood.  Also, yards will be more beautiful as the plant sale was successful.
Artisan Fair 11/20/2021: A variety of 17 local artists displayed their unique wares and fun raffles for each vendor. There was lots of homemade goodies for purchase at the bake sale.
Halloween Events 10/31/2021: THANK YOU to the more than 30 children and their families who enjoyed and walked the parade.  Several neighbors were at the end of the driveways to enjoy the costumes and hand out candy.  At the end of the parade at the clubhouse, everyone was greeted with the Trunk or Treat with candy, ice cream, fun and photo opportunities.
Harvest Dinner & Karaoke 10/30/2021: THANK YOU! We had more than 40 adults and 2 children enjoy a delicious dinner catered by Wolfrocks, more than 15 happy raffle prize winners and plenty of singers.
Acrylic Paint Pour Night 10/19/2021: the creative juices were flowing and so was the paint.  Everyone had a fun time and thanks to Lynn Murphy from The Beach Hut for her talent.
Beyond Borders 10/14/2021: book premier with own neighbor and friend, Allan Redfern was attended by several neighbors and even guest appearances from those featured in his book. If you missed it and would like a copy of his book, send him an email

[email protected]

and make arrangements.  You'll really enjoy the short stories.
Yard Sale: 6/5/2021 we had a beautiful sunny day with more than 30 homes having their own yard sales.  The clubhouse had more than 8 tables and tarps and gazebos loaded with lots of goodies for all the shoppers to look through and get some great purchases. With so many volunteers, Tina and Mark picked up, delivered, organized, sold and then donated the remaining items.
Beach Cleanup: 5/15/2021 we had a nice group of neighbors bring rakes, shovels, clippers and energy.  The beach was cleaned in under 2 hours!
Clubhouse Cleanup: 5/8/2021 we had a small group work on the outside of clearing leaves and debris and washing the windows of the clubhouse.
House Decorating Contest: Thank you all who participated, it was a lot of fun! Special thanks to the judges and Congratulations to the Jones family on Sweet Birch and Peter & Libby on Petta Lake Road!
Halloween Events – THANK YOU! to all who participated and joined in the Halloween fun!

Scarecrow Event: 10/17/2020 we decorated and had 2 scarecrows at the Narragansett gazebo, Mr. PLSIA and our own Mark Paliotti
Halloween Parade: 10/31/2020 had more than 60 costumed guests came out for the parade and walk the block to the clubhouse.  Thanks to neighbors who handed out treats.  We were lead and followed by some really nice old cars.  Thanks to Jezabel in the front and Larry for bringing up the end of the parade.
Trick A Trunk: 10/31/2020 we had 8 decorated vehicles who handed out treats to the many ghosts and goblins.

Clubhouse Cleanup: 8/22/2020 THANK YOU to the hard working volunteers for cleaning the clubhouse grounds.
Moonlight Paddles – Check out the photo gallery page.
Hi Low Jack: series cut short due to COVID-19, but participants enjoyed the shortened season and donated to the association.
Chili Cookoff: 2/8/2020 we had 10 chili varieties to taste and more than 40 people to vote! Mark Paliotti did it again! Congratulations also to Chris Belleville and The Woodsia Team of Phil, Pat and Ben who tied for 2nd place. Thanks for all the chili and attending! See ya next year!
Food Drive: 11/22/19-12/27/19 Big Thank you to all who donated food for the Johnnycake Center. Great Job!
Ugly Sweater Party: 2/20/19 was a big success and who can believe there are THAT many ugly sweaters around?
Cookie Swap: 12/15/19 had more than a dozen bakers and so many delicious cookies to make beautiful Christmas Cookie plates. Thanks to all who baked and came to swap.
Santa Visit: 12/15/19 had a few families come enjoy the crafts and visit with Santa.  After the party fun, Santa took a ride around the neighborhood to wish everyone Merry Christmas. Many took advantage of having a professional photo taken with Annie, including some loved pets.  Thanks for coming.
Craft Night: 12/5/19 Was a enormous success and fun event.  Over 30 participants gathered shells, sea glass, beads, fishing net and other items to create their unique 8×10 framed sun catcher.  Thank you to all who came out and supported this event.  See you next time . . .
Artisan Fair: 11/16/19 Thank you for being part of our annual Artisan Fair! It was a huge success because of everyone involved! We had wonderful Artists and so many people that came out to support them. Hopefully getting some holiday shopping done in the process.
Adult Halloween Potluck & Costume Fun: 10/25/19 some fun costumes and goodies to eat.
Children's Halloween Party: 10/26/19 several children enjoy lots of crafts, movies and games.
Trick Or Treat: 10/31/19 enjoyed lots of children in their costumes.
Harvest Dinner & Karaoke: 10/19/19 was a delicious and musical event.  Thank you to all who came and supported the dinner and karaoke.
Sip & Create:  9/26/19 was a popular and fun event.  Participants scored and  cut glass pieces to make mosaics and designs to glow brilliantly in their hurricane lamps.
Yard Sale: 9/21/2019 was a great success.  The rain didn't keep us from holding the yard sale.  It only gave us 2 more weeks to gather donations and get organized.

Thank you to all who donated. Thank you to all or come down and made a purchase. Thank you to all who participated with your own yard sale.


Sunset and Moonlight Paddles – Check out the photo gallery page.
May Day Breakfast & Plant Sale:  5/5/19 was a great day despite the rain.  Almost 60 folks enjoyed a delicious homemade breakfast including scrambled eggs, ham, frittata, strata, stuffed French toast, baked beans, pancakes, home fries, baked goods.  Special thank you to Lisa from Party Ninjas for her expert face painting and adding lots of color to the little and not-so-little folks. Another special recognition and thank you to Jane from Blue Moon Farm Perennials for her donation of the fresh flowers on the breakfast table.
Chili Cook-Off: 3/23/19 was a success with 7 chili contestants; Swedish meatballs; corned bread and a variety of deserts. Congratulations to Mark Paliotti and his chorizo chili for winning the tasting!
Cookie Swap: 12/20/18 was a success as we had 9 variety of cookies to swap and enjoy.  Be sure to join in next year!
Snacks with Santa: 12/15/18 Santa didn't have any kids visit him, but we hope everyone has a Merry Christmas and Happy New Year!
Ugly Sweater Party: 12/14/18 THANK YOU for everyone who came and participated with their sweater and treats to share. Lots of creative neighbors!
Garden Group: 12/5/18 Allan did a terrific job explaining the Mighty Oak that surrounds our area. Lots of information sharing and learning.
Artisan Fair: 11/10/18 THANK YOU to all the vendors and shoppers that came to support the fair.  Many holiday sales delighted the vendors and the PLSIA crew were great with refreshments, cookies, hot cocoa, coffee and all the lucky winners of the many raffle prizes.  Thank you to Cheryl and her elves who coordinated the fair.
Harvest Dinner/Karaoke: 10/20/18 THANK YOU for coming and hope you enjoyed the delicious dinner from Wolfrocks and the many talented singers!

Special THANK YOU to our raffle prize donations from Pelly's Pub, Pancho O'Malley's, Matteo's Bakery, Roch's Fresh Food, Leo's Pizza, Lesley Wasilewski, Arturo Joe's and Bonnet Liquors

Yard Sale: 9/22/2018 went well. THANK YOU to all who participated, visited and purchased "new" treasures.
Wine & Paint Night: 9/13/18 THANK YOU for coming to the first paint wine glasses night at the clubhouse.  Beautiful and Unique glasses were made!
PLSIA Annual Meeting and Potluck was a night with good communication about the Association.

Board Members: Nancy Gates, Allan Redfern, Earl Travers, Cheryl Lavornia, Courtney Perry, Paul Nelson, Pat Quigley, Dean Lavornia, Shawn Perry

Beach Cleanup: 5/12/18 THANK YOU for all who braved the weather and did a fine job of cleaning up the beach.
May Day Breakfast & Plant Sale: 5/6/18 THANK YOU for coming out for a delicious breakfast and the beautiful plants.
Chili Cookoff: 2/3/18 THANK YOU for the wonderful chefs who cooked delicious chili and other dishes. Congratulations to Debbie DeCarlo on winning the tasting with Wally's Chili!
Cookie Swap: 12/17/17 THANK YOU for the variety of cookies and holiday cheer that was shared!
Pancake Breakfast with Santa: 11/26/17 THANK YOU to the many families who joined PLSIA and Santa for a delicious breakfast and fun time!
Artisan Fair – 11/11/17 THANK YOU to all who came and visited the many talented vendors for the Artisan Fair
Harvest Dinner – 10/21/17 THANK YOU to all who came to enjoy the delicious food from Wolfrocks and entertaining karaoke voices!

Special THANK YOU to our raffle prize donations from Roch's Fresh Foods, Pelly's Pub, Leo's Pizza, Pancho O'Malley's,  Arturo Joe's & Matteo's Bakery

Moonlight & Morning Paddles – Check out the photo gallery page.
Wine & Paint Night – 9/20/17 THANK YOU to all who came, painted and enjoyed the night!
Annual Meeting – 9/10/17 THANK YOU to all who came.  Good food and changes to the Association.
Beach Cookout – 6/24/17 | 7/22/17 THANK YOU to all who came out and supported the cookouts!
Beach Clean Up – 5/13/17 THANK YOU to everyone who came and helped get the beach ready for summer!
May Day Breakfast & Plant Sale – 4/30/17 THANK YOU to the delicious breakfast, volunteers and beautiful plants!
Welcome Spring Pot Luck Party – 3/25/17 THANK YOU to the wonderful conversations, laughs and delicious food!
Check out the photos from some of our events